MICRODRONES AND GEOCUE PROVIDE ANSWERS TO YOUR DRONE LIDAR QUESTIONS.
Conventional surveying methods are tried, tested, and true. However, depending on the size of the job and the resources on hand, they can also be time-consuming. That's why more geospatial professionals are adding drone surveying equipment to their toolbox.
Microdrones and GeoCue are widely recognized for their LiDAR technology leadership. Together they offer a complete line of LiDAR sensors and solutions to fully cover all the needs of geospatial professionals; from utility-grade mapping sensors to fully integrated drone LiDAR solutions.  Combined with the processing power of LP360, the two companies offer all the tools and resources necessary to process data from any airborne or drone sensor on the market today.
You can select from the TrueView 3D Imaging Systems, which offer innovative UAV LiDAR and photogrammetry solutions integrated into lightweight payloads, that can be mounted on any platform capable of carrying the weight of the sensor.
Or, you can opt for a fully integrated drone system from Microdrones. Drone surveying products include the GE industrial drone line, which offers aerial mapping technology that includes the aircraft, sensors, workflow, service, and support to help you work smarter. Or select from the Microdrones expert drone line, which uses the lifting power of the Microdrones md4-3000 aircraft platform to carry the most powerful sensor technology on the market today.
With all the options available from Microdrones and GeoCue, there are still many questions about getting started with drones and selecting the right technology for the job. Below, we've provided answers to some of the top questions we've received regarding drone LiDAR surveying.
DRONE LIDAR QUESTIONS AND ANSWERS
1. Can I afford drone LiDAR drone?
Price is often the main factor for many small businesses when it comes to purchasing a UAV solution. Looking for low-cost price tags or opting for preowned equipment might help with the bottom line in the beginning. However, if the system purchased can't produce the quality of data required to create a solution, in the long run, this route can be more costly.
The professionals at Microdrones and GeoCue can help you select the best sensor or system that will fulfill the requirements for your projects. Our complete portfolio allows you to choose high-end drone surveying equipment appropriate for your work, software processing that maximizes your data and deliverables, all at a price to meet your needs.
2. What's the difference between LiDAR and Photogrammetry?
Another form of this question is, "Do I have the right tool for the job?" Selecting LiDAR or photogrammetry sensors depends on the needs, timing, and resources for the projects to be surveyed.
For applications like creating digital twins, corridor mapping, topography, or construction site monitoring, LiDAR provides some key advantages over photogrammetry. Drone LiDAR can also collect data in significantly less time than it takes surveyors using photogrammetry methods. The photogrammetric processing, where the software "stitches" all of the images together can take much longer. With drone LiDAR, you can produce a point cloud shortly after you land and start to manipulate that data almost instantly.  Having the right tool for the job – whether it's being equipped with a camera or LiDAR sensor, will help you be more successful.
When it comes to LiDAR and photogrammetry, GeoCue and Microdrones have you fully covered. The TrueView 3DIS lineup offers an innovative LIDAR + dual oblique mapping camera configuration integrated into a lightweight payload for use on commercial drone platforms. It allows for fast, easy automated generation of true 3D colorized point clouds, oblique imagery and orthophotos from a single drone flight from sensors like the TrueView 515, an all-purpose-grade mapping sensor.
Photogrammetric systems like the mdMapper1000DG from Microdrones, combine a camera with a survey-grade GNSS receiver and a precisely calibrated IMU to combine photos to calculate measurements.
Microdrones also provides fully integrated drone LiDAR systems, like the mdLiDAR1000LR which combines a longer range LiDAR sensor with a 26-megapixel camera to cover more ground and be extremely efficient.
3. What can Drone LiDAR penetrate?
One of the main benefits of drone LiDAR is its ability to penetrate vegetation and detect points along the ground. LiDAR can "see" through vegetation allowing you to collect much more detailed data.
LiDAR — which stands for Light Detection and Ranging — can map surfaces of the earth in areas with structures, thick vegetation, or other objects blocking the "view."
LiDAR allows the surveyor to create a more accurate picture of a job site, leading to better deliverables and estimates for their customers. To see drone LiDAR in action is to check out our drone surveying reality show, Down to Earth.
4. What is the accuracy of Drone LiDAR?
Since the use of Lidar technology has proliferated in the automotive industry, entry-level systems are now much more affordable and available to integrate with UAV systems. However, entry-level systems don't always provide survey-grade accuracy. Overall accuracy depends on several factors including the laser scanner, LiDAR beams/returns, field of view, and pulse repetition rate.
The LiDAR systems available in the GE industrial drone line and the Microdrones expert line can achieve high levels of accuracy. For example, the mdLidar1000HR with a 90-degree field of view for both scanned points and imagery repeatedly provides a precision of 1.6 cm (.052 ft) at 1-σ when flown at 40 m (130 ft) at a speed of 8 m/s (18 mph). The family of mdLiDAR3000 integrated solutions achieves an accuracy of 1-3 cm in x, y, and z.
The current sensor lineup in the TrueView product line supports four models of the system. First is the Survey-Grade Mapping Sensor, the TrueView 655/650. This latest system adds a third nadir camera to collect imagery from dual obliques as well as the Nadir view. It features RIEGL integration, built with the miniVUX-3UAV, which provides high accuracy mapping with excellent vegetation penetration and wire detection in a lightweight payload package. The 655 is integrated with APX-15 IMU while the 660 has the APX-20 IMU. The vertical accuracy for the is better than 3 cm RMSE while the 660 improves to better than 2.5 cm RMSE.
The TrueView 515, an all-purpose grade mapping sensor, is the mid-range system, built on the Hesai PandarXT-32 scanner. This compact 3D Imaging System has impeccable definition along wires and superior ground cover beneath vegetation. A 20 MP Camera is also combined with the TrueView 515.
Rounding out the product line is the TrueView 435. This is the most economical platform for utility-grade mapping, built on the 16-channel Hesai PandarXT. It has the sensitivity needed for infrastructure mapping and the capability to cover lightly vegetated areas. Both the TrueView 515 and 435 have an accuracy better than 5 cm RMSE.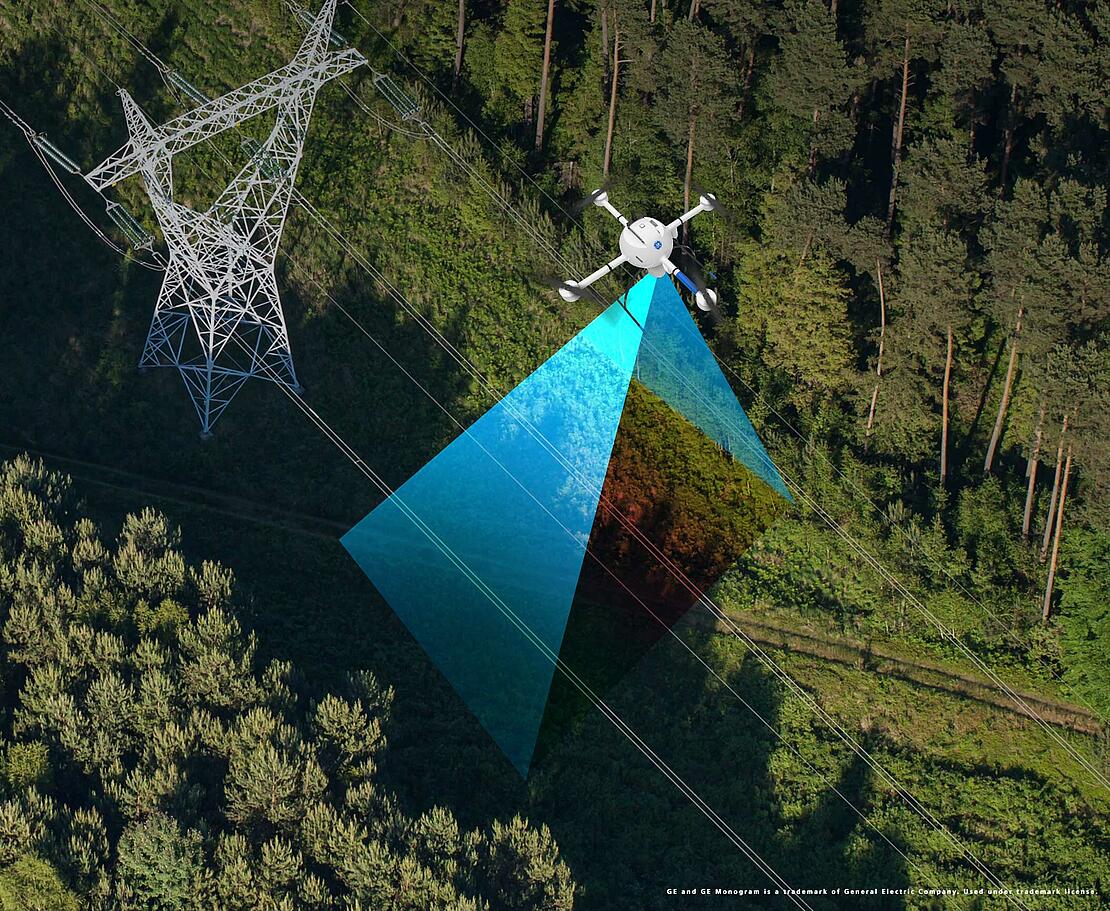 5. What are the top uses of drone Lidar surveying equipment?
There are many applications for drone LiDAR. Some of the most frequent uses include:
Digital Twin Creation and Maintenance
Corridor mapping
Mining (volume calculation)
Construction site monitoring
Environmental changes (time series)
Forestry
Contour mapping
Planning, Leveling, Excavation
Archaeology and cultural heritage
Highway construction
Precision Agriculture
Drone LiDAR is making a serious impact for specialists across many professions, both in terms of efficiency of data collection and generation of geospatial deliverables.
6. What are the top ways drone LiDAR can save time and money?
Drone Lidar allows you to cover much more ground than traditional surveying methods. Convert that time saved in the field into more projects and more business for your bottom line.
One of the main benefits of drone LiDAR is that you can make vegetation disappear with the click of a button and start completing topos much safer and more efficiently! Go from the field to a finished surface in the same day.
Also, if you need to survey mountainous terrain or other areas that are difficult and dangerous to access by foot, drone LiDAR eliminates the risk and safely captures the data from the air, keeping you and your team out of harm's way.
Drone LiDAR produces high-quality data very quickly. Not only will you cover more ground with drone LiDAR, but you'll also capture much more high-quality data than conventional methods to produce a more accurate point cloud and surface model.
With other kinds of aerial LiDAR, such as helicopters or planes, costs can soar. Drone LiDAR is much more affordable and with all the options now available from GeoCue and Microdrones, our team of sales professionals can help you maximize your budget by selecting an optimal Lidar sensor or system for your business needs.